How to Get Official WhatsApp Business Cloud API?
Set up Your Facebook Developer Account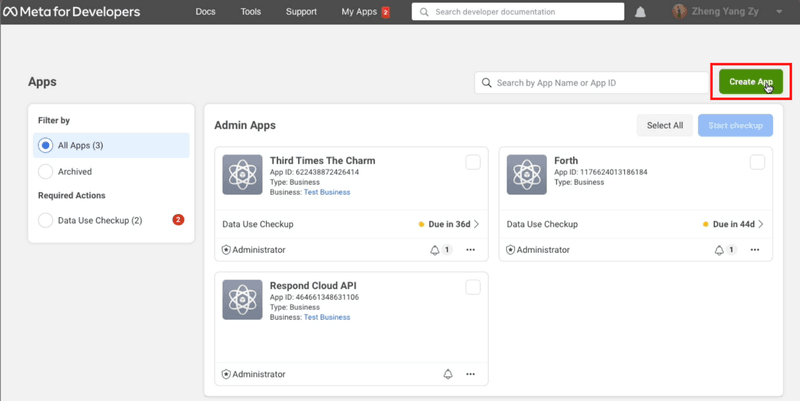 2. Select Business as your app type.
3. Provide basic information about your business. If you don't have a Business Manager account, you may leave it unselected. Click Create app. You will be directed to your Meta dashboard.
4. Scroll down until you see WhatsApp and click Set up.
5. Click Continue to accept WhatsApp Cloud API's terms and conditions. If you left your Business Manager account unselected in step 3, you may leave your Business Account unselected here and Facebook will automatically create a business account later.
6. Send a message with the test number generated by WhatsApp to your personal or business WhatsApp number to test if your integration is a success.
Next, we'll show you how to add your phone number to your WhatsApp Cloud API account
Connect Your Phone Number
1. Click Add Phone Number to connect a phone number to your WhatsApp Cloud API account.
2. Fill in your business information and click Next.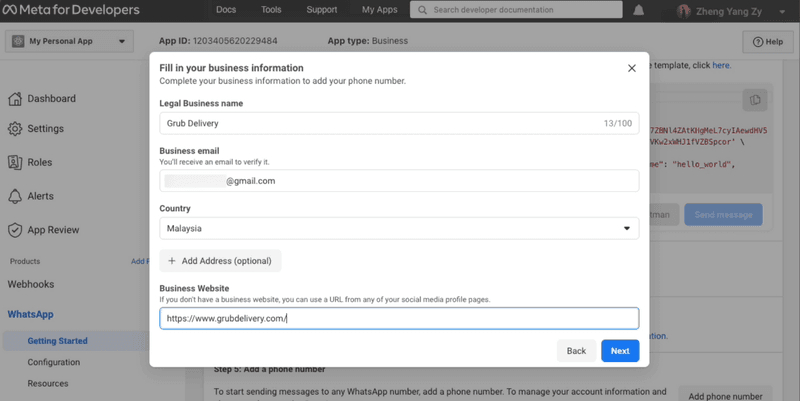 3. Fill in your WhatsApp business profile information and click Next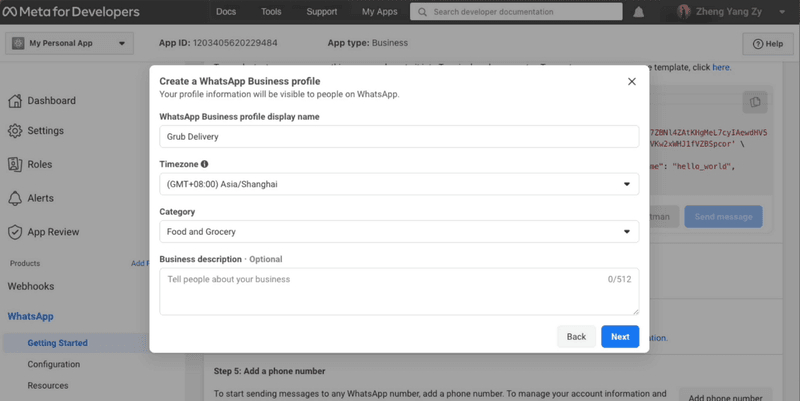 4. Add a phone number for your WhatsApp Cloud API. Note that the number you add cannot be tied to an existing WhatsApp account.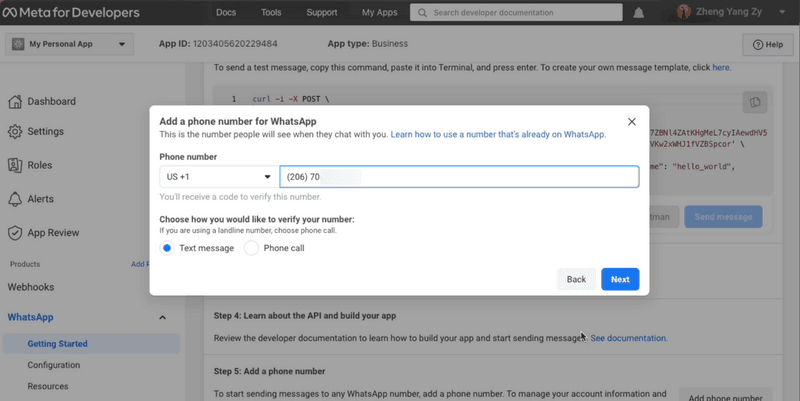 5. Verify the phone number you've added. A 6-digit verification code will be sent to the number. Enter the verification code once you receive it.
6. Look at the Send and receive messages section. The number you've added will be shown.
You have connected your phone number with your WhatsApp Cloud API account! Now that you've set up WhatsApp Cloud API on your Facebook Developer Account, you need to connect it to a messaging inbox like cloudapi.onlinessytemssolutions.in to start sending and receiving messages.
Verify Facebook Business Manager
Info
Want to know how to verify your Business Manager account on Facebook? Or how long does business verification take on Facebook? We have all the answers for you! This article will explain the Facebook Business verification process and how to verify the Facebook Business Manager account.
1: If you have created an app in developer.facebook.com for Whatsapp Cloud API, a Facebook Test business manager account would have been created automatically. Click on your Business Manager link associated with your Whatsapp Cloud API app or directly go to Facebook Business Settings.
2: After clicking on the Business manager link, the Meta business setting page will be opened, select business info and edit your business information like Legal business name, Address, and Business phone number.
3: Now click Security Center and start the verification process.
4: Add your organization's details. If you've filled in your company details in the Business Info section, this section will be auto-filled. Double-check the information to ensure that they are accurate.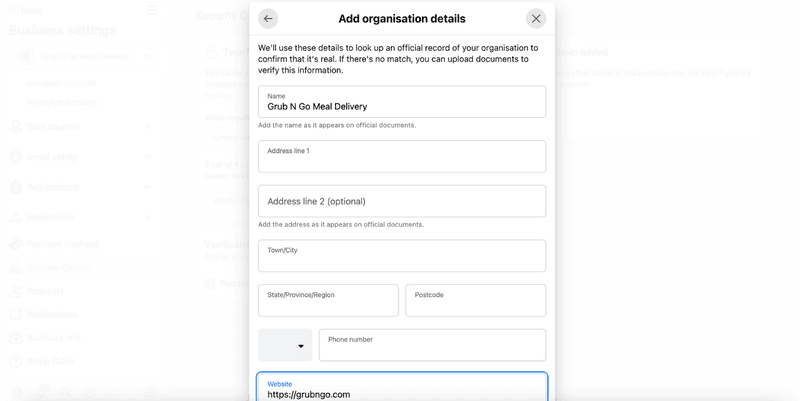 5. Add supporting documents to prove your business' legal details and submit.
6. Select your preferred contact method for a confirmation code to verify your Facebook Business Manager account. If you've verified your domain, you can submit your application right away, without having to receive a confirmation code.
7. Confirm your phone number and click Text Me Now to get a confirmation code. This step depends on the contact method you've selected in the previous step.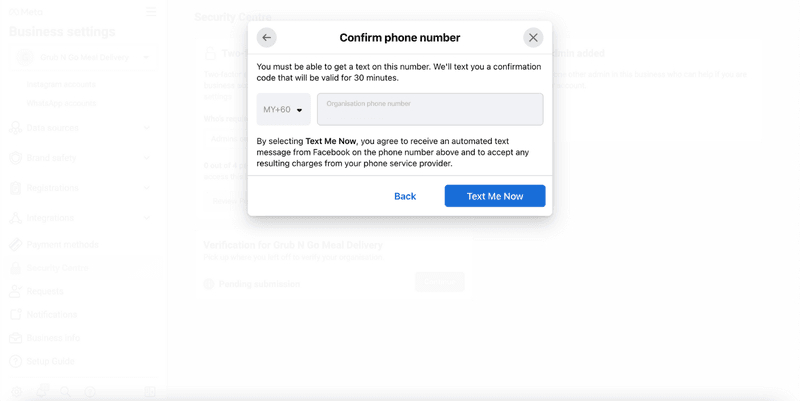 8. Input the confirmation code and click Next. If you did not receive a verification code, click on Resend Code. You can also change your preferred contact method if your chosen method isn't working.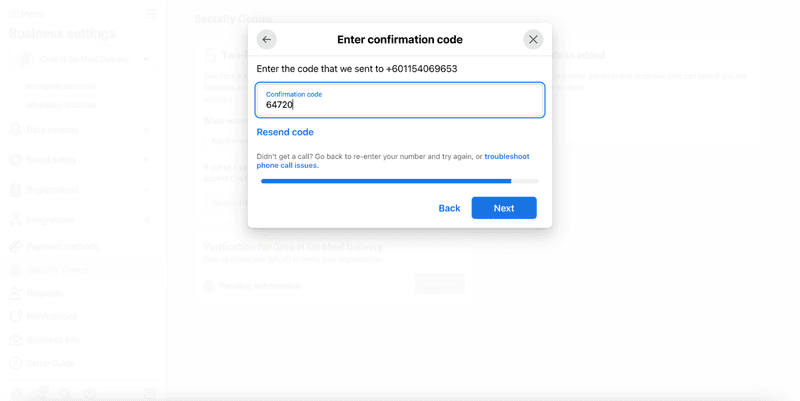 9: Once you've completed the verification process, you will receive your verification status via email and Facebook within 2-3 business days. You can also check the status in the Business Info section or the Security Centre of your Facebook Business Manager.
Step 2: Generate Permanent Token on Cloud API :-
LINK:-